Greeting potential investors by the Head of Arsk municipal district
Dear investors!
One of the most important tasks of the economy of Arsk municipal formation is the increasing of investment activity as a key component of sustainable economic development and a favorable investment strategic climate of the district.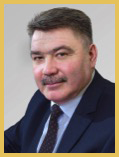 With great pleasure I introduce you Arsk municipal district, which entered to the history of the Republic with its rich past and bright real. It is an area with beautiful nature, wonderful air, many memorable places connected with names of many figures of history, literature and art. The local authorities of municipal formation of «Arsk municipal district» see their main goal in developing the economy, improving people's lives by providing the necessary conditions for business initiative and entrepreneurship, the formation of the attractive image of our district for domestic and foreign partners
Of course, the resource base, economic potential, existing infrastructure of the district forms a huge investment space. Arsk municipal district is confidently looking to the future and is ready to mutually beneficial partnership with all who propose innovative projects.
We are ready to accept investors to provide professional support to their projects. To ensure economic growth and improve the quality of life of the population, we also focus on other competitive advantages of the Arsk district: beautiful environment, convenient geographical location, historical appeal, enhancing the image of the area as not only the large agro-industrial but also tourist center of the Republic of Tatarstan.
Welcome to our wonderful district! Visit us and you will get a guarantee not only of successful realization of your business, but also companionship and enchanting and attractive nature and atmosphere will inevitably make You fall in love with Arsk district.
We hope for constructive cooperation and wish you successful and productive business! Waiting for interesting offers from trusted partners!
Yours sincerely,
Nuriev Ilshat Gabdulfartovich